My kids are both showing a lot of interest in Christmas this year, so I've been researching fun advent calendar ideas for kids. I never had an advent calendar when I was a kid, but I always thought it looked like so much fun. If you're not familiar with advent calendars, they are calendars containing small numbered flaps, one of which is opened on each day of Advent (the 24 days leading up to Christmas).
There are some really creative advent calendars available now, so if you're looking for fun advent calendar ideas for kids, you'll want to check these out! They are a really great way to get your kids excited for Christmas. They will love opening a door on their advent calendar and finding a surprise each day! This post contains affiliate links. I may earn a commission if you make a purchase after clicking on a link in this post.
LEGO Star Wars Advent Calendar 2017
 LEGO Star Wars Advent Calendar 2017 (75184)
Take a festive tour of the galaxy with the LEGO® Star Wars Advent Calendar. Open up a door each December day to reveal 24 LEGO® Star Wars themed gifts. Once you've collected all 24 gifts, unfold the playmat with Jakku, Starkiller Base and deep space play scenes. Vehicles include The Ghost, The Phantom, Stormtrooper transport, Rey's speeder, Millennium Falcon, Snowspeeder, Kylo Ren's Command Shuttle, Y-wing, TIE Striker, Hovertank, AT-ST, blaster cannon, snow blower and a sled with boosters! Weapons include 3 blaster pistols and 2 blasters.
Mega Bloks Teenage Mutant Ninja Turtles Advent Calendar Mega Bloks Teenage Mutant Ninja Turtles Advent Calendar
Have some festive fun counting down the days to your little one's favorite holiday with this Mega Bloks Teenage Mutant Ninja Turtles Advent Calendar. 24 doors reveal buildable, turtle-themed surprises. Turtle figure can be equipped to look like Donatello, Michelangelo, Raphael or Leonardo using any of the 4 included bandanas.
 LEGO Friends 41131 Advent Calendar Building Kit (218 Piece)
Add excitement for kids with this LEGO Friends Advent Calendar. Open a door each day in December for holiday fun. This advent calendar toy includes Emma and Naomi mini-doll figures. There are 24 secret compartments a child can open, each containing its own buildable surprise. The LEGO Friends holiday-themed calendar includes musical instruments, a microphone and DJ decks, a hamster, a fireplace, a snowman and ice skates. When you open up a new compartment each day, you can count down to Christmas. With this LEGO advent calendar, you can visit the website each Sunday to find new building instructions. Children will enjoy the anticipation it brings.
 LEGO City Advent Calendar 60155 Building Kit (248 Piece)
Give children a fun holiday-themed toy set with this LEGO City Town LEGO City Advent Calendar 60133. Your little ones will enjoy the anticipation it brings. LEGO City features 24 different surprises, one for each day of the season. This advent calendar toy includes Santa's sleigh and presents, a snow scooter, a Christmas tree, a helicopter, a shop, a cookie stand and much more. The set also includes several buildings, vehicles and mini-figures. Each door can be opened to reveal the surprise of the day.
The Elf on the Shelf Advent Calendar

Count down the days until Christmas with "The Elf on the Shelf."
Barbie Advent Calendar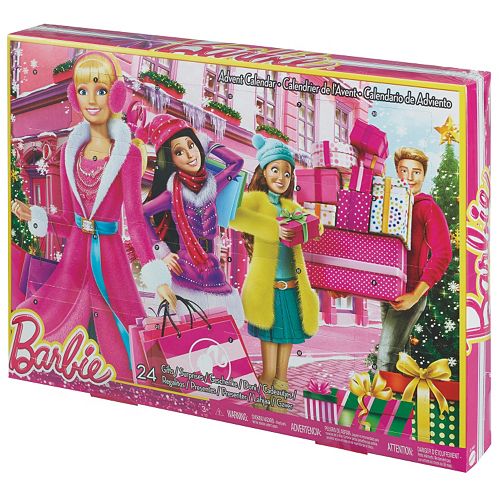 Celebrate the holidays in signature style with this Barbie Advent calendar. Open 24 days of compartments to discover a fab fashion, cool accessories and even a gift.
Kurt Adler Paw Patrol Advent Calendar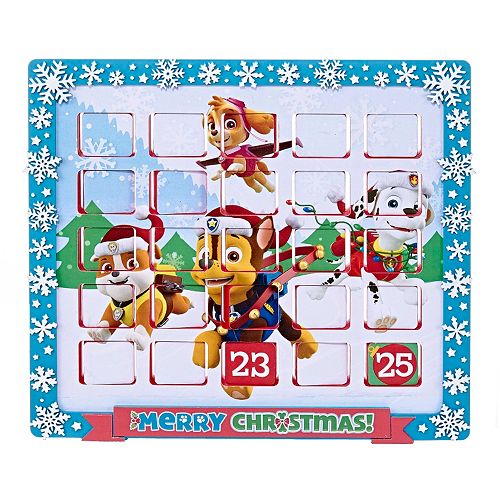 Count down the days to Christmas with your favorite Paw Patrol buddies with this Kurt Adler Paw Patrol Advent Calendar.
Despicable Me Advent Calendar

Your little ones can build all kinds of merry mischief when you count down to the holidays with the Minions Movie Advent Calender. Featuring 24 different holiday-themed surprises, which they can open and build each day, it adds to the fun and excitement of Christmas. It comes with three never-before-seen buildable Minions in special festive outfits along with an array of interchangeable parts such as arms, feet and googles.
Monster High Advent Calendar

Build a haunted holiday surprise every day and count down to the festive fun with the Advent Calendar by Mega Bloks Monster High! The advent calendar features 24 mystery windows. Open one each day to discover a different buildable Monster High-themed surprise, including three buildable mini fashion figures, small character-themed builds, and winter accessories like a tree and skis.
Play-Doh Advent Calendar
With a different surprise gift for each day leading up to the holiday, there's no knowing what festive creations you'll be able to shape for the season — and beyond! Play-Doh and all related properties are trademarks of Hasbro. Includes 24 surprises, playmat, and 5 cans of Play-Doh Brand Modeling Compound.
Mega Bloks Smurfs Advent Calendar
24-day calendar with a new surprise every day (24 Days to build and collect). Over 150 pieces including 2 buildable Smurfs. Mega Bloks has released another smurfing hit with this Smurfs Holiday Advent Calendar Build picture-perfect winter scenes with presents, a snowman, a sled and more to smurf the Holidays like a Smurf. Smurf your Holiday Season the Blue way with the Smurfs Holiday Advent Calendar from Mega Bloks.
Peanuts Advent Calendar
Spend the Christmas season in Peanuts style with this fun advent calendar from Galison. Each window reveals holiday antics from all your favorite Peanuts characters.
Kurt Adler Sesame Street Advent Calendar, Multicolor
Help your little one to count down the days to Christmas in adorable style with the Kurt Adler 9.5 in. Sesame Street Advent Calendar. All your Sesame Street pals are featured on this wintery scene, including Big Bird, Elmo, Cookie Monster, Telly, and many more. Each day, flip a door around to reveal a number.
Kurt Adler 9.5 Frozen Anna and Elsa Advent Calendar
Count down the days 'til Christmas with Anna and Elsa with this Frozen Advent calendar from Kurt Adler! Queen Elsa and Princess Anna are featured here opening gifts with their snowman friend, Olaf! Turn each door to reveal the next number as you count down 'til Christmas.
Fisher Price Thomas & Friends Minis Advent

Christmas on the Island of Sodor is the most festive time of all, and now children can celebrate the holiday with this special MINIS-themed Advent Calendar. There's a different MINIS "gift" inside every door, including 6 exclusive minis with holiday-themed decorations. Children will love counting the days to Christmas and receiving a special "gift" for each day.
Tsum Tsum Advent Calendar

Includes 18 Tsum Tsum figures, 6 large, 6 medium and 6 small in holiday attire. It also comes with 6 holiday themed accessories, and 6 seasonal head pieces. Open a new window each day to reveal a surprise! Collect, stack and display your favorite holiday themed Disney Tsum Tsum characters! Each holiday accessory is stackable and can be used to stack a large, medium & small Tsum Tsum figure on its own or used to build out an even taller stack with other accessories! Head pieces fit on each large Tsum Tsum figure for the perfect holiday decoration.
Which one of these fun advent calendar ideas do you think your kids will like the most?