This post contains affiliate links, and I will receive compensation if you make a purchase after clicking on my links.
Gingerbread waffles are one of my favorite things to make for breakfast on Christmas morning. They are so light and fluffy, and bursting with that delicious gingerbread flavor. They are the perfect start to a cold winter day.
Every Christmas morning, my family gathers together, and before any gifts are opened, we cook up a huge breakfast, sit together at the kitchen table, and indulge.  As a kid, I hated waiting to open gifts until after breakfast, but as an adult, I really enjoy taking the time to wake up, relax a bit and enjoy some quality time with the family before the wrapping paper starts flying.
This is a tradition I plan to carry on with my own children, as much as they may hate it as kids too.  I think it's very important to show them that Christmas is about more than just ripping into your gifts as fast as you can.
Gingerbread is such a great flavor for the holidays, and it pairs really well with Cinnamon Butter. These gingerbread waffles are always a huge hit with my family.
Make these gingerbread waffles for your own family this Christmas, and they'll be glad they waited to open their gifts.  This delicious breakfast certainly makes it worth the wait!
This recipe is slightly adapted from a recipe from FamilyFun Magazine
.
Ingredients for Waffles:
4 eggs
1/3 cup sugar
1 cup molasses
1 cup almond milk
3 cups flour
2 teaspoons ground ginger
1 1/4 teaspoons cinnamon
1 teaspoon ground cloves
3/4 teaspoon salt
2 teaspoons baking soda
2 teaspoons baking powder
1/2 cup unsalted butter, melted
Directions:
Beat the eggs until they're light and fluffy, about 2 minutes. Add the sugar, molasses, and almond milk and mix until blended, about 1 minute more.
In a separate bowl, sift together the flour, spices, salt, baking soda, and baking powder. Add the dry ingredients to the egg mixture and beat until smooth. Stir in the butter.
Cook immediately in a waffle iron until golden brown.
 Ingredients for Cinnamon Butter:
1/2 cup softened butter

1/4 cup honey

1 teaspoon cinnamon
Directions:
Whip butter, honey and cinnamon until combined. Chill until ready to eat.
Make your gingerbread waffles even more exciting with this Disney Frozen Olaf Waffle Maker
. Your family (especially the kids) will love eating Olaf waffles on Christmas morning! Aren't they adorable?!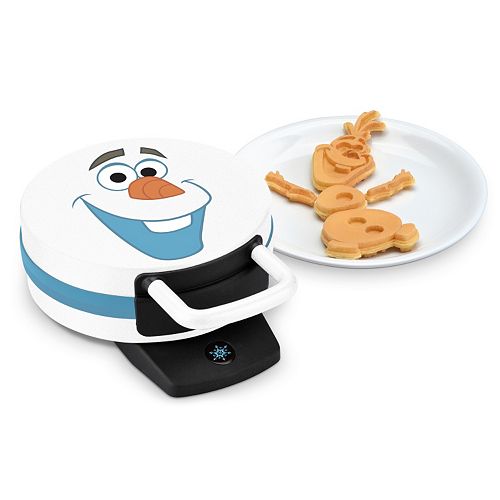 Does your family enjoy a large breakfast on Christmas morning? Will you try these gingerbread waffles?